Information
Name
Takahashi Naoko Cup / Gifu Seiryu Half-Marathon Race
Presented by
Naoko Takahashi Cup Gifu Seiryu Half Marathon Executive committee, Japan Association of Athletics Federations GIFU


*Executive committee consists of Japan Association of Athletics Federations GIFU, Gifu Prefecture, Gifu City, Gifu Sports Association, and Chunichi Shimbun.

Under
the auspices of
Japan Association of Athletics Federations, Gifu Prefectural Board of Education, Gifu City Board of Education, Gifu City Sports Association, Gifu Prefecture Tourism Federation, Aichi Television Broadcasting Co., Ltd., Gifu Broadcasting System, Inc., Gifu Shimbun
Supported by
Gifu City Fire Department, Gifu City Community Association, Gifu City Shopping District Promotion Association, Gifu Yanagase Shopping District Promotion Association, Gifu Convention and Visitors Bureau, Gifu City Ryokan and Hotel Cooperative Association, Gifu Nagara River Onsen Ryokan Association, Junior Chamber International Gifu, Gifu City Medical Association, Gifu City Sports Promotion Committee Joint Association, Gifu City Sports Instructors Association, Gifu City Junior Sport-club Association, Gifu Prefecture Red Cross Society, Kawaramachi Town Development Association, Gifu Prefecture Recreation Association
Events
1) Half marathon race
2) 3km race
Date
Sunday, May 15, 2016


 9:05

Starting time of half marathon race

 9:25

Starting time of 3km race

 9:55

Cut-off time of 3km race

 12:05

Cut-off time of half marathon race

Venue
Gifu Memorial Center (2675-28 Nagara Fukumitsu Ohno, Gifu City)
Marathon Course
1) Half marathon race:
Gifu Memorial Center Nagaragawa Stadium >> Kinka-bashi Street >> Gifu Station >> Kinka-bashi Street >> Kawaramachi area >> Left bank road of Nagara River >> Chidori bridge >> Left bank road of Nagara River >> Nagara-gawa Promenade >> North side entrance of Kinka bridge >> Gifu Memorial Center Nagaragawa Stadium


* The courses are authorized by both the IAAF (International Association of Athletics Federation) and the JAAF (Japan Association of Athletics Federation), and are under the supervision of marathon runner, Ms. Naoko Takahashi.



2) 3km race:
Gifu Memorial Center Nagaragawa Stadium >> Kinka Bridge >> Gifu Memorial Center Nagaragawa Stadium
Competition Rules
The race will be conducted in accordance with the rules and regulations of the IAAF (International Association of Athletics Federations) and the JAAF (Japan Association of Athletics Federations), and the race organizer. This race has received IAAF Road-Race Label designation, and IAAF Road-Race Label regulations will apply to this race. Testing for doping will be carried out in accordance with IAAF regulations.
Medical matters
● If runners are selected for a doping test, they are required to provide an identification card with a photo. Please bring any of the following suitable forms of identification with you on the race day; a student ID card, a company ID card, a driver's license or a photocopy of your passport. Your identification card should have a clear headshot photograph.

● Doping Control
Doping control will be conducted under either IAAF Anti-Doping Rules and Regulations or the Japan Anti-Doping Code.
The organizer will collect either a blood sample, urine sample or both, in order to conduct a doping test before or after the race. Runners eligible for testing must undergo this test according to the instructions and procedures explained to them by their Doping Control Officer (DCO). This applies also to runners who are not registered with the JAAF.

● TUE Application
Runners who have to take prohibited substances or methods described on the International Standards Prohibited List for medical reasons must apply for a TUE (Therapeutic Use Exemption). For further information, visit the JAAF website (http://www.jaaf.or.jp/medical/index.html), or the Japan Anti-Doping Agency website (http://www.playtruejapan.org/).

● Agreement for the doping test from the parental authority of minors participating in the event
According to the World Anti-Doping Code, International Standards, and the Japan Anti-Doping Code which, were revised on January 1, 2015, minors participating in the event (under the age of twenty years) are required to submit a letter of consent signed by a parental authority regarding doping testing when participating in a race.

Minors participating in this race must read and understand the letter of consent and bring the original form with a parent's or guardian's signature and hanko stamp to the event. The letter of consent can be downloaded from http://www.jaaf.or.jp/pdf/doisho.pdf.
If minors are requested to undergo a doping test, they must submit the original letter of consent form to the NFR (National Federation Representative) in the doping testing room. It is only necessary to submit the consent form once as minors. If minors are requested to undergo another doping test after submission of their consent form, they should inform the NFR that the original has already been submitted. In the case that a minor does not submit a letter of consent form and is selected for a doping test, the minor will still be required to undergo a doping test and must submit their letter of consent form to JAAF within 7 days of undergoing the test.

Time Limit
1) Half marathon race: 3 hours
2) 3km race: 30 minutes


*1 The running time limits will be based on the starting-gun time and strictly enforced. *2 For reasons of traffic control, security, and event operation, the cut-off time will be strictly enforced. When runners cannot reach a checkpoint by the cut-off time, they will be asked to leave the race.

Maximum
number of
entrants
10,000 runners
1)9,000 runners
2)1,000 runners
Entry Fee
1) 6,500 yen
2) 1,800 yen
Eligibility
for participation
1) Half marathon race (First Division: For entrants registered with the JAAF, Second Division: For general participants)
Runners must be 18 years old or older on the day of the race. It is expected that all runners be able to finish the half marathon race within 2 hours and 50 minutes. (In the case of athletes who are registered with the JAAF and participate in the 2nd division race, their running time will not be officiated.)

2) 3km race (Third Division)
Runners must be Junior high-school students or those in higher grades. It is expected that all runners be able to finish the 3km marathon race within 25 minutes.
Invited Athletes:
Athletes with exceptional running times, which were achieved either in domestic or international races, will be invited to participate in the race.
How to apply
1) How to apply: Internet (Registrations are accepted in the order of the application dates.)

2) Application Period: Commences 9:00 a.m. on Tuesday, December 1, 2015
* Application due date:
(1) Half marathon race: Friday, December 11, 2015
(2) 3km race: Friday, January 29, 2016

3) Cessation of registration acceptance:
Internet: Registrations are accepted in the order of the application dates. Applications will stop being accepted when the maximum number of entrants has been reached.

● Charity Entry
1) Half marathon race charity entry fee: 10,500 yen (Entry fee: 6,500 yen + Charitable donation: 3,000 yen + Original commemorative gift: 1,000 yen)
(Online Entries will be accepted between November 24 to November 27)

2) 3km race charity entry fee: 5,800 yen (Entry fee: 1,800 yen + Charitable donation: 3,000 yen + Original commemorative gift: 1,000 yen)
(Online Entries will be accepted between November 24 to November 27)
*Maximum number of charity entrants: 1) 1,800 people  2) 200 people
In the event that the maximum number of charity entrants is not reached, the remaining number of charity entrants will be allocated to general entrants.
Receipt of
Running Number
Cards
Saturday, May 14, 2016 from 10:00 through 20:00 at Deai Dome


*Entries for the 3km race will be able to receive number cards from 7:00 a.m. to 8:00 a.m. on Sunday, May 15 at Fureai Dome.

Other
1) The goal of the event is to contribute to a better society through sport and sportsmanship.
We ask all people joining the event to help us achieve this goal.

2) We are looking for "heart support runners" to help ensure the safety and wellbeing of the runners. These volunteers will take part in a workshop prior to the event.

3) The opening ceremony and welcome reception will be held from 17:00 on May 14, 2016.

4) Related events will be held at Gifu Memorial Center Grass Square, and San-san Deck on May 14 and 15.


May 14, 2016 13:00 - 15:00
Running Meeting with Ms. Naoko Takahashi


Running with Ms. Naoko Takahashi and guests, interviews and talk show, etc.

May 15, 2016 12:20 - 13:30
Farewell Talk & Live event
May 14 and 15, 2016
Marathon EXPO - Rakuichi-Rakuza


Participants can enjoy events, exhibitions and booths introducing the food, tourist attractions and traditions of Gifu prefecture.

Administrative
Office
Contact
Information
Administrative Office of Naoko Takahashi Cup Gifu Seiryu Half Marathon Executive Committee
(Administrative Office of Japan Association of Athletics Federations GIFU, Nishina Heights A-102, 3-49 Gakuen-cho, Gifu city)
TEL / FAX: 058-263-1295
Official website: http://www.gifu-marathon.jp
Events (Eligibility & Entry fee)
 

Division

Race

starting time
/cut-off time
(Time limits)

※2

Maximum
number of
entrants

Eligibility

※3

Entry fee


※4,5,6

1

First
Division

Half marathon
race for
registered entrants

※1


Runners should
be registered
with the JAAF.
9:05/12:05
(3 hours
running time)
9,000
runners
Runners must be 18 years old or older on the day of the race.


※2016 JAAF-registered athletes only

6,500yen

Second
Division

Half-marathon
race for
general participants

※1

Runners must be 18 years old or older on the day of the race.


※*In the case of athletes who are registered with the JAAF and participate in the 2nd division, the running time will not be officiated.

2

Third
Division

3-km race

9:25/9:55
(30 minutes running time)
1,000
runners
Junior high-school students or those in higher grades
1,800yen
Invited Athletes:
Athletes with exceptional running times, which were achieved either in domestic or international races, will be invited to participate in the race.
Charity Entry:
Advance online-entries will be accepted from November 24 to November 27, 2015. Participation as a "charity entrant" will require a payment of 4000 yen, in addition to the regular entry fee. (The 4,000 yen includes a 3000-yen charitable donation and an original commemorative T-shirt).
(*Maximum number of charity entrants:1) 1,800 people  2) 200 people *7)
*Runners can choose to assign their charitable contribution to one of four recipient categories: "Support For Disaster-Affected and Conflict-Affected Regions", "Support for Sports for the Physically Challenged", "Support for Environmental Protection", and "Support for the Protection of Animal Rights".
※1:

The courses are authorized by both the IAAF (the International Association of Athletics Federation) and the JAAF (the Japan Association of Athletics Federation), and are under the supervision of marathon runner, Ms. Naoko Takahashi.

※2:

The running time limits will be based on the starting-gun time and strictly enforced. For reasons of traffic control, security, and event operation, the cut-off time will be strictly enforced. When runners cannot reach a checkpoint by the cut-off time, they will be asked to leave the race.

※3:

t is expected that all runners to be able to finish the half-marathon race within 2 hours and 50 minutes and the 3-km race within 25 minutes.
(In the case of athletes who are registered with the JAAF and participate in the 2nd division race, their running time will not be officiated.)
The eligibility age is determined by the runner's age as of May 15, 2015. Due to safety issues runners in wheelchairs are not eligible for this race.
Runners in all divisions must start running in the order of the time declared in their application.
Due to safety reasons, Third Division (3-km race) runners will be divided into 2 starting groups and start separately.

※4:

Accident insurance is included.

※5:

The entry fee for a runner who accompanies a visually impaired runner will be waived, with a maximum of up to 2 persons. For further information, please contact the administration office.

※6:

An additional charge may be required depending on the method of payment.

※7:

In the event that the maximum number of charity entrants is not reached, the remaining number of charity entrants will be allocated to the general entrants.
Size chart of the commemorative T-shirt

[Unisex(for adults)] ※Please use this as a rough guide.
Sizes
SS
S
M
L
O
Height
[in cm]
160cm
[157~162]
165cm
[162~167]
170cm
[167~172]
175cm
[172~177]
180cm
[177~182]
Weight
[in kg]

53kg

[50~56]

59kg
[56~62]
65kg
[62~68]
71.5kg
[68~75]
78kg
[75~81]
Chest
measurement
[in cm]
84cm
[82~86]
88cm
[86~90]
92cm
[90~94]
96cm
[94~98]
100cm
[98~102]
Cut-Off Time
Runners, who fail to pass through the checkpoints before the time limit, will be disqualified from the race and will be asked to leave the race.
1

Half Marathon
Chekpoints are at:
Running time after gun fired should be within:
Cut-off time:
5.8km
(intersection in front of a courthouse)
10.1km
(Ukai Ohashi Southeast intersection)
13.2km(Chidori Bashi North intersection)
17.3km(Gifu Grand Hotel parking area)
Goal (Nagaragawa Stadium)
1 hour and 5 minutes

1 hour and 30 minutes

1 hour and 55 minutes
2 hours and 27 minutes
3 hours
10:10

10:35

11:00
11:32
12:05
2

3km Race
| Chekpoints are at: | Running time after gun fired should be within: | Cut-off time: |
| --- | --- | --- |
| Goal (Nagaragawa Stadium) | 30 minutes | 09:55 |
Application Procedure for Race Registration: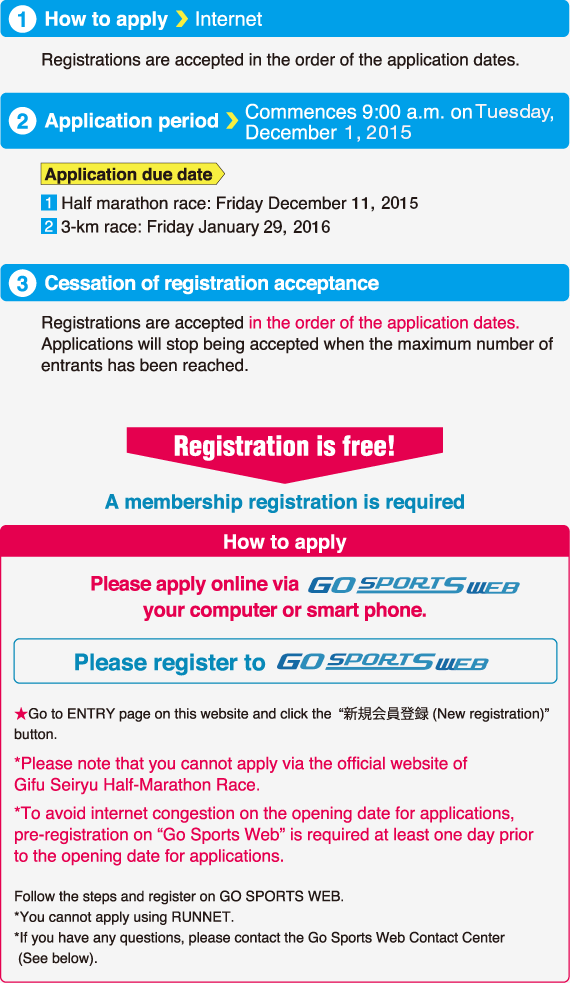 ■Reference:Entry Fee and Service Charge
Race

1

Half marathon race

2

3-km race
Entry Fee
6,500yen
1,800yen
How to Apply
Via the Internet
Via the Internet
Time of payment and Acceptance of Registration
When you apply through the Internet


《In order of the applications received》

When you apply through the Internet


《In order of the applications received》

Administrative Fee
500yen
200yen
Payment Options
Internet Payment by Credit Card
Payment via a convenience store
Internet Payment by Credit Card
Payment via a convenience store
Total amount
7,000yen
2,000yen
Charity Entry
Administrative fee for the charity entry is 500 yen.
* Advance online entries will be accepted from November 24 to November 27, 2015.
※ Please ensure that you make your payment before the due date. If you fail to pay by the due date, your entry will automatically be cancelled.
Additional Application Stipulations:
Before applying, all participants are required to read and agree to follow all the rules and regulations stated below:
Once you have submitted your entry form, it is considered that you have read, understood and accepted the race outline and all of the rules and regulations. Any cancellations and changes of division after entry due to personal circumstances will not be accepted for any reason. No refunds of payments will be given.
Each applicant is allowed only a single entry for one of the three divisions, and changing the race entered will not be possible after acceptance of the application. Applicants making a false claim, such as with regards to age or gender, or acting on behalf of another applicant running in the race, will be immediately disqualified. If you or another member of the organization you represent is discovered to have intentionally made a falsehood in your registration, your entry will immediately be cancelled for this year's race, and you may not be allowed to race in any events held in the future.
Transfer of rights to participate in the race is strictly prohibited. If the organizer discovers a misconduct of these acts, your entry will be immediately forfeit and the organizer will not be held liable for any damages incurred.
Runners who are registered with the JAAF and participate in the second division (half-marathon for general participants), will not receive officiated running times.
Applicants who are members of JAAF are requested to state which body they belong to in their application.
Minors (under the age of 20) must have the written consent of a guardian to enter the race.
Special number cards will be provided for the exclusive use of escort runners accompanying the visually-impaired. Please inform the administration office at the time of application if you are intending to be an escort or to be escorted.
Detailed race information will be sent to accepted applicants in the middle of April. Other miscellaneous items, such as the runner's number card, will be handed out at the time of your entry. Runners should attach their number card to their chests. Those who are registered with JAAF, and heart support runners are requested to attach their number cards to both their chest and back.
Streets and roads in the vicinity of the race venue will be very crowded on the day of the race, so it is highly recommended that people use public transportation or shuttle buses. A space in the parking lot will be given only to those who reserved such at the time of entry.
Race organizers are not responsible for lateness due to delays of public transportation or traffic conditions.
Please make sure you train well for the marathon race and participants are required to monitor their health condition and receive a physical check-up prior to the race. In the case that you feel any abnormal physical conditions, make sure to consult a doctor before entry.
As for injuries, illnesses, loss or accidents that occur during the race, first-aid will be given by the organizer. However, the race organizer will not be held responsible afterwards unless the accident resulted from an intentional act or is determined to have been caused by the gross negligence of the event organizer.
The organizer will carry accident insurance, which will cover the following; 2 million yen will be paid out for injuries or residual disability incurred during the race; 1,500 yen per day will be paid out to those who are hospitalized; 1,000 yen per day will be paid out to those who visit hospital as an out-patient.
Personal belongings can be kept at a designated area, but the race organizer will not be held liable for stolen or missing belongings in case of theft.
For reasons of safety, the starting order is based on the time specified in the application at the time of registration. In order to ensure the safe administration of the races, no false declarations will be tolerated. In accordance with the instructions of the race officials, runners must start running from their designated block. Those who arrive late at the starting point must start from the last available block. To ensure the safety of runners and the race schedule, interruptions will not be allowed.
In the case of an emergency, such as accidents or fire, emergency vehicles must be allowed to pass ahead of runners. Please follow the instructions of the police, ambulance, fire fighters, or race officials.
Banners or placards with claims, declarations or advertisements are prohibited. Regarding costumes, runners should abide by the rules laid out by the event organizer. Any conduct in violation of the official rules and instructions may lead to disqualification and a forfeit of the entry fee.
For runners who are registered with JAAF and desire to receive an official certificate of their running time, a certificate will be issued for a fee of 500 yen per certificate. Please apply on the day of the race. The certificate will be sent to the runner at a later time.
Please carry home all personal trash.
No refund of a payment will be given in the case of a scaling-down or cancellation of the race, caused by an earthquake, storm with wind and flood damage, snow, fire, a disturbance or an accident, or illness.
No refund of a payment will be given in the case of a cancellation of the race due to an event that happened beyond the reasonable control of the organizer.
Chunichi Shimbun reserves the right to use information provided by entrants for its news reports relating to the marathon.
The publicity rights and portrait rights to post videos, photographs, articles, or recordings and other information related to the race including applicants' names, ages and addresses (country, prefecture, or city) to all TV, newspaper, magazine, or the Internet, shall belong to the organizer.
In general, photographs taken during the event can be sold (not only by the organizer but also by subcontractors).
The organizer will observe the laws concerning the Protection of Personal Information Act and will deal responsibly with all information concerning participants.
The race will be held in accordance with all stated rules, regulations and agreed on items.
Regarding personal information:
The organizer recognizes the importance of personal information, and will therefore observe the Act on the Protection of Personal Information and related laws dealing with personal data. In order to improve service to participants, personal data will be used by the organizer or its subcontractors for the following: invitations to participate, notification of running-time records, invitations to participate in future events, announcement of running-time records and place rankings, and notifications from related organizations regarding future events. The organizer or its subcontractors may contact participants to confirm their application for entry into the race.
To obtain a pamphlet, please apply to the following address together with the following information:
A note containing the following information:
- the number of copies of the pamphlet you require
- your phone number
(e.g. Pamphlet: 1, ph. 058-xxx- xxxx)
Postage stamp for return postage


(140 yen stamp for 1 to 3 copies, 205 yen for 4 to 6 copies, 250 yen for 7 to 11 copies, 400 yen for 12 to 23 copies)

Return envelope of A4 size, together with the recipient's written name and address.
Contact information for inquiries for this event, an application, and requests for a pamphlet:
"Gifu Seiryu Half Marathon Entry Center" in Go Sports Web Entry Center
4F STC Building 1-7-17 Aoi Higashi-ku Nagoya City, Aichi 461-0004
Tel: 0570-550-711 (Weekdays, 10:00 – 17:00)
* The office is closed from Wednesday, December 23 through to Sunday, January 3.
* Applicants are responsible for the postage of sending pamphlets.
Contact Information for event inquiries
Administrative Office of Naoko Takahashi Cup Gifu Seiryu Half Marathon Executive committee
TEL.058-263-1295 (Weekdays, 10:00 – 17:00)
(Closed from Saturday, December 26 through to Sunday, January 3)